Vetstream, WSAVA Foundation and DoveLewis Extend Partnership to Support Veterinarians in Developing Countries
Veterinary digital specialist Vetstream and DoveLewis Emergency Animal Hospital have announced an extension to their partnership to enhance veterinary education in a group of developing countries in Asia by delivering content from DoveLewis' respected web-based professional training program, atdove.org, to veterinarians and students free of charge in some Asian countries. This new partnership builds on an existing collaboration between the two companies which has made DoveLewis' educational content available to veterinarians in Africa at token cost since 2015.
Vetstream, a Global Educational Partner of the World Small Animal Veterinary Association (WSAVA), already offers Vetlexicon, the world's largest online clinical veterinary reference tool, to WSAVA member associations at preferential pricing and at no charge to members from developing countries. atdove.org is a web-based training program for veterinary professionals with over 400 procedural videos featuring real cases at DoveLewis Emergency Animal Hospital, a non-profit, 24-hour emergency and specialty hospital in Portland, Oregon, USA.
Dr Gabriel Varga, Chair of the WSAVA Foundation said: "The WSAVA Foundation's work to support the development of companion animal medicine in Africa via its AFSCAN initiative has proved the value of distance learning, which is one of the key components of our efforts. It has also attracted interest and support from many new partners and we are grateful to be joined by DoveLewis in our efforts to extend the support we can offer to regions outside Africa.
"This collaboration is another great example of how our profession globally can benefit from extended networks and new technologies. "
"There is a worldwide need for high-quality, relevant veterinary training resources," said Dr Ron Morgan, CEO of DoveLewis. "This partnership pairs the expertise of our teaching hospital with the reach of Vetstream and the WSAVA Foundation to make more education tools available at no cost to professionals striving to provide the best standard of care to animals in these developing countries."
Under the arrangement with DoveLewis, Vetlexicon will include a specific collection of videos, selected by veterinarians in developing countries as being most relevant to them. They include: introductions to microscopy, clinical pathology, bacteriology, cytology, radiology, dermatology and parasite control, as well as wound care, dressings and bandaging.
Commenting on the relationship with DoveLewis, Vetstream Chief Executive Dr Mark Johnston said: "In my role at the WSAVA Foundation, I have been exploring how best we can support veterinarians in developing countries and have discussed with colleagues in a number of these countries the types of resources which will be of most value.
"We believe the training videos available through atdove.org will fit their requirements very well and we are delighted to be working with DoveLewis on this new project. It is in line with our role as a Global Educational Partner of the WSAVA and confirms our commitment to supporting veterinarians in developing countries around the world by increasing the volume of online educational content available to them."
Mark Johnston was appointed a Board Member of the WSAVA Foundation in March 2017. This partnership is the first activity he has led in this role. The countries to benefit are Afghanistan, Bali, Bangladesh, Bhutan, Cambodia, East Timor (Timor Leste), Fiji, Indonesia, Laos, Malaysia, Maldives, Mongolia, Myanmar, Nepal, Pakistan, Philippines, Sri Lanka, Thailand and Vietnam.
Vetstream is already engaged in a range of projects to enhance veterinary learning globally, including the African Small Companion Animal Network (AFSCAN), an initiative from the World Small Animal Veterinary Association (WSAVA) Foundation to raise standards of veterinary care in five countries in Sub Saharan Africa – Kenya, Namibia, Nigeria, Tanzania and Uganda.
Note to editors:
Vetstream offers a range of digital services to the veterinary profession. They include Vetlexicon, the world's largest online clinical veterinary reference tool, offering comprehensive, peer-reviewed digital point-of-care information on the veterinary treatment of dogs (Canis), cats (Felis), rabbits (Lapis), exotics (Exotis) and horses (Equis), together with Practis, which provides advice on all aspects of practice management.
Vetstream Webpartner offers a suite of website design, online content and digital marketing services designed specifically for the veterinary profession while Vetstream Vetacademy, the company's user-friendly online learning platform, provides the whole practice team with the ability to search and select from more than 300 courses from the world's leading training and CPD providers.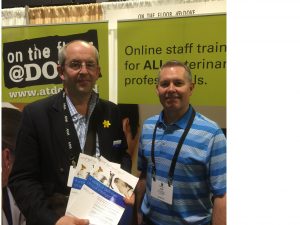 Left to right:  Dr Mark Johnston, Chief Executive of Vetstream with Dr Ron Morgan of DoveLewis
For further information:
Rebecca George, George PR
Tel: +44 (0) 1449 737281/+44 (0) 7974 161108