Charity urges support for #Vets4vultures Online Fundraising Campaign
British charity Wildlife Vets International (WVI) is urging the veterinary profession to support vital bird of prey conservation projects in Bulgaria, India and South Africa through its participation in online fundraiser The 2017 Big Give Christmas Challenge.
Vultures and other birds of prey are persecuted throughout the world, either through hunting and the poisoning of carcasses, or indirectly through kite strings, wind turbines and the use of the drug diclofenac in livestock. Numbers of some species of vultures have experienced a drop of 99.9% in recent years.  Through its Raptor Rehabilitation Prorgamme, WVI aims to ensure that as many injured birds as possible survive and are successfully reintroduced to the wild.  Its veterinary teams, including avian vets Johanna Storm and Stefan Harsch and vet nurse Matt Rendle, are already working in India to increase the survival rate of injured birds and to increase their fitness at release. They are also training local vets and rehabilitation staff in pre- and post-surgical treatment and in surgical techniques.  However, to ensure that its conservation plans for 2018 can go ahead, WVI needs to raise £18,000.
WVI's Raptor Rehabilitation programme has been selected for The Big Give Christmas Challenge, the UK's biggest online match funding campaign. The Challenge goes live on #GivingTuesday, 28 November 2017 and, if WVI can raise at least £3,000 in online donations by 5 November, it has the opportunity to have its donations doubled through match funding from donors, including Virbac UK, Vetronic Services Ltd, and. It has fundraising has been given a kickstart with the allocation of £1,500 from The Big Give's own 'Champion Funders.'
To help veterinary practices encourage clients to get involved, it has created the hashtag – #vets4vultures – and an online promotion pack containing resources for use on their websites and social media platforms. The resources explain the threats to vultures and other birds of prey and show how WVI's Raptor Rehabilitation Programme is helping these endangered and iconic birds.
Commenting, Olivia Walter, WVI Executive Director, said: "In contrast to popular depictions of vultures and birds of prey, they are beautiful animals. They are also an ecologically vital group of birds that face a range of threats which are causing their numbers to plummet. We must act quickly and our Raptor Rehabilitation Programme will significantly increase their chance of survival in some parts of the world.
"We hope our colleagues in the veterinary profession will show their support for #vets4vultures and mobilise their friends and clients to do the same. Our support pack is packed with useful and fun information and we have lots of other great activities planned in the run up to The Big Give launch on 28 November."
For further information on getting involved, please contact WVI at info@wildlifevetsinternational.org or visit its website. Donations can be made at http://bit.ly/2yurJ5H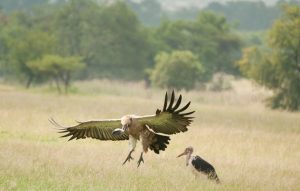 A Cape Vulture
For further information:
Rebecca George
George PR
Tel: 01449 737281/07974 161108