How to get your story in the vet press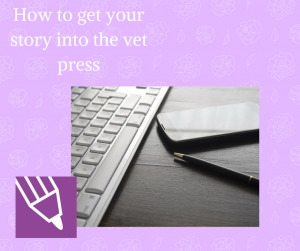 How to get your story in the vet press
Getting your new product or service covered in the veterinary media will raise awareness of your business within the veterinary profession. Follow these golden rules to get your media campaign off to a great start:
Familiarise yourself with the veterinary media: Do you know how many veterinary magazines there are? How many are monthly and how many are weekly? Which are aimed at vets and which at vet nurses?  Do you know the favoured online sources of veterinary news? Before you start sending them press releases, make sure you know 'who's who' in the veterinary media world. It will enable you to target more accurately and to achieve greater success.
Build relationships: In media relations, 'relations' matter. Drop an email to your key veterinary titles.  Introduce yourself.  Ask them what types of story they're most interested in and find out their copy deadlines – journalists' lives are ruled by deadlines.  Once you've started to build a relationship, you'll be able to send them the type of stories they are most likely to cover – and they will recognise your name and be more likely to open your emails.
Provide relevant stories: Journalists are not interested in your business. They want 'news' – the stories that their readers – vets, vet nurses and other veterinary team members will be interested in.  These could include:
new products, new services, new initiatives
awards
major achievements by vets/nurses – either those working in practice or in industry
patient stories – if they are examples of pioneering treatment or out of the ordinary in some other way
hot topics and emerging issues in animal health
If you have a story that could fit into any of the above categories, it's time to Prepare the perfect press release
Got a question? Drop me a tweet or leave a comment on facebook.  You can also call me on 07974 161108.